Continuing the KMLabs tradition of advancing ultrafast science
RAEA™ Ti:sapphire amplifier builds on KMLabs' 20-year tradition of leadership in ultrafast science, bringing the unmatched flexibility of previous amplifier systems into a single, hands-free platform.
Beyond serving the multitude of applications for which Ti:Sapphire lasers have become ubiquitous, RAEA is especially designed as an unparalleled source for producing short wavelength light via high harmonic generation. The strength of RAEA for this purpose is realized in its contribution as one of the critical components in the Pantheon EUV/soft X-ray source.
Cleanest high energy, femtosecond pulses ...

for highest HHG efficiency and therefore maximized EUV/SXR flux

Engineered for stability ...

for continuous long term operation in IR or EUV/SXR

Excellent beam profile and focusability ...

for hands-off coupling to HHG module for the non-expert user
Pantheon EUV/soft X-ray driven by RAEA Ti:sapphire laser
Expand your lab's capabilities
The award-winning RAEA has been engineered for the most challenging applications rather than the most common, and was specifically designed with the XUUS system in mind for high harmonic generation. From better beam quality and stability, to remote alignment and lower maintenance needs, RAEA serves as a repeatable and reliable source for any of your high harmonic generation needs. In addition, with the advancements we've made in both pulse quality and energy, you no longer need to fully commit your amplifier to just high harmonic generation. RAEA provides enough energy to drive a XUUS system and then some, allowing you to expand your lab capability without needing another system.
KMLabs: pioneer in cryo-cooling
The enabling technology behind RAEA's unmatched performance is the award-winning Permacool™ cryo-cooling technology, patented by KMLabs.
Permacool is at the heart of the RAEA, allowing you to push your system harder without having to worry about the thermal lensing that can distort your beam in both time and space in other systems. KMLabs' 20+ years of experience in cryogenically cooling Ti:sapphire crystals have allowed us to fine-tune this technology to make the best use of it in your system.
| | |
| --- | --- |
| Cryo-cooling reduces distortions in space and time creating a pulse better-suited to high harmonic generation | |
Wid
e-ranging applications beyond HHG

While RAEA has been designed for unparalleled robustness, our team understands that each experiment has specific needs. That's why we've worked hard to keep the flexibility the original KMLabs amplifier systems were known for in a user-friendly platform that's right for any skill level. Notably, RAEA offers a unique software-tunable repetition rate in order to maximize experiment flexibility, meaning that the only thing you need to do to access your system's full range of use is to select a new settings profile.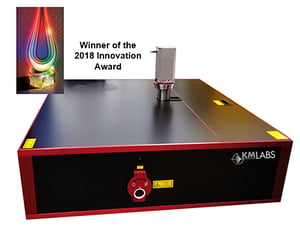 RAEA has a user-tunable repetition range from 5-30 kHz with multi-millijoule pulse energy output. There is also a short pulse option available, shortening the pulse width from 35 fs down to 25 fs with only a small reduction in the highest achievable power. To make sure you're getting the best possible pulses, we qualify all of our systems with the industry-standard MesaPhotonics' FROG to ensure that all of our energy ends up in the pulses and not the pedestal.
Here are just some of the applications for which RAEA is suited:
Materials characterization

Femtochemistry

THz generation

2-photon polymerization

Pump-probe experiments

Attosecond science
Unprecedented reliability
Whether driving high harmonic generation or performing other customized experiments, RAEA has been engineered to make system operation as simple as possible. With temperature-controlled modules, contamination-minimizing enclosures, and remote alignment capability, day-to-day maintenance on RAEA is significantly lower than a typical Ti:sapphire system. We have designed every aspect of this system to ensure that you spend more time on your experiments and less time working on your laser.
Simplifying service
RAEA was developed to maximize your experimental up-time. Remote alignment capabilities mean that system tune-ups can be done without the need for a full service visit and, with drop-in modules, the parts of the system that need to be serviced by hand can be sent directly back to the factory for repair without the need for scheduling an onsite visit or tearing down the entire system.
Committed to the cutting edge
KMLabs has always been and continues to be uniquely understanding of the individual needs of high-end, cutting-edge laboratories. Please contact KMLabs sales at sales@kmlabs.com for modified system requests, or to request a collaboration project that advances science.
Specifications
RAEA
RAEA Short Pulse Option
Software Tunable PRF Range
5-30 kHz
5-15 kHz
Average Power
Up to 20 W standard
Up to 13 W standard
Pulse Energy
3 mJ @ 5 kHz
2 mJ @ 10 kHz
0.6 mJ @ 20 kHz
2 mJ @ 5 kHz
1.3 mJ @ 10 kHz
Pulse Width
35 fs
25 fs
Spatial Mode
Near TEM00, M2 < 1.25
Near TEM00, M2 < 1.3
Contact us to discuss your experiment requirements. Our technologists can help you find the best configuration for your needs.Custom configurations for other requirements of pulse energy or repetition rate are possible and available upon special request. Contact us for more information.
Download the RAEA datasheet.